Linda Kreter and WiseHealth for Women Radio presents:
Kate Dilligan and CoolerHeads.com – KEEP Your Hair W/ Chemotherapy
–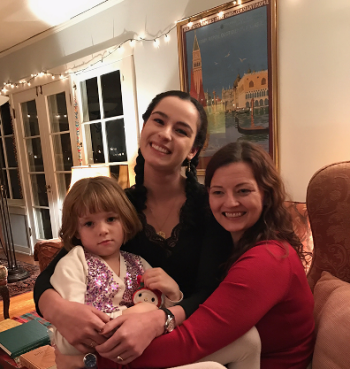 Kate with family midcycle of 8 rounds of chemotherapy in 2016;
this is what agency looks like.
Linda Kreter and WiseHealth for Women Radio speaks Kate Dilligan, CEO of www.CoolerHeads.com and the creator of the first FDA cleared device to reduce hair loss from chemotherapy for solid tumors through medically induced scalp hypothermia.
Kate's own experience as a breast cancer survivor gives her the personal experience to help patients maintain their privacy, agency, and identity — it's positive emotional health to manage your treatment and outcome options. Please share this incredible product known as AMMA with those with solid tumors; our appearance goes a long way to a positive approach to chemotherapy and recovery.
More at www.CoolerHeads.com, and click here to download the show https://bit.ly/WHR-CoolerHeads. Also, on Spotify, iTunes, Google Play, Stitcher, and other outlets. Air date 07Nov2023.