Linda Kreter and WiseHealth for Women Radio presents:
Midge Murphy, JD, PhD – Practice Energy Healing with Integrity, Legally and Ethically
–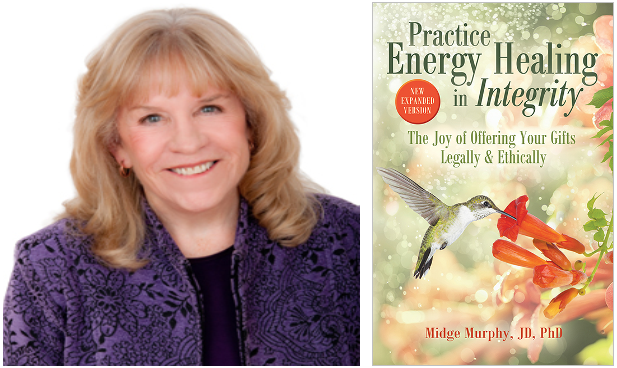 Linda Kreter and WiseHealth Radio brings a very intriguing guest today: Midge Murphy, an attorney as well as the only licensed energy practitioner to be certified in this specific discipline. Energy practices are part of Complementary and Alternative Medicine (CAM) and including many diverse practices that often work together with allopathic (conventional, Western medicine). One example comes from working with Veterans with cPTSD, who often benefit from a combination of allopathic and CAM therapies (for example, equine and traditional talk therapy).
Words are important in offering the gifts of energy practice: it's key to understand the scope of practice, when to refer, and how titles may be misinterpreted by the general public. Midge's book includes certification and guidance on a roadmap to maintain legally sound and ethical practices. The industry is only nominally regulated, but moving in that direction.
Also, Midge shares chapters on informed consent, boundaries to protect the client and practitioner, and the importance of non-judgmental practitioners. Trust has been fractured in the last several years, and this interview will provide excellent resources and information for those both seeking energy healing and those providing it.
Find out more at www.MidgeMurphy.com, and her book may be found wherever books are sold (and there's a PDF version on her website). Click here to listen: https://bit.ly/WHR-PracticeEnergyHealingWIntegrity. Air date 24Jul2023.