Linda Kreter and WiseHealth for Women Radio presents:
Marie Cosgrove, "Greater Fortune: Essential Lessons from the Entrepreneur Who Bought the Company that Fired Her"
–
Guest Marie Cosgrove
is a remarkable woman, mother, striver, overcomer, renowned public speaker, and has now written a phenomenal book on life lessons of value to everyone at home or professionally. Adversity can bring enormous opportunity, and Marie shares her challenging beginning in life, her journey to professional success in many realms, and her tenacity and belief to never, ever give up.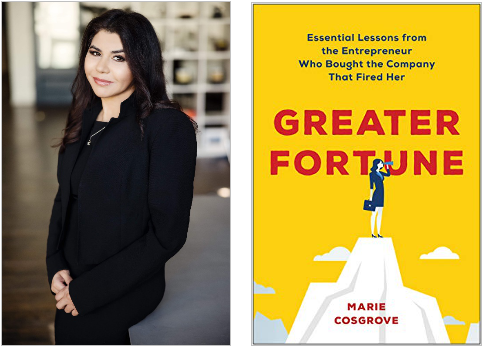 Women often underestimate themselves, yet challenges bring openings for greatness if belief in yourself is strong. As Marie says, "There will never be another you." During this pause in life as the pandemic rolls through, we have choices to make: founder or flourish. Face your fears, listen to voices that encourage, count your blessings, and focus on doing the work necessary to achieve your dreams.
As you listen, recall there are people who talk — and people that DO. Marie's mantra of "Loving Big" resonates these days. Listen to each other, engage in smart and kind discourse, surround yourself with people of integrity, and communicate with patience; it is possible in the noise and chaos of labels and division. Loving Big may entail bold risks, but it will always stretch your knowledge, curiosity, and potential.
Find more information at www.MarieCosgrove.com. Find "Greater Fortune" here: http://bit.ly/MarieCosgrove.
Click here to download the show http://bit.ly/WHR-MarieCosgrove-GreaterFortune click below to listen live. Also, on iTunes, Google Play, Stitcher, and other outlets. Air date 04May2021.