Linda Kreter and WiseHealth for Women Radio presents:
Angie Swetland: "I Know You by Heart, Navigating the Dementia Journey"
–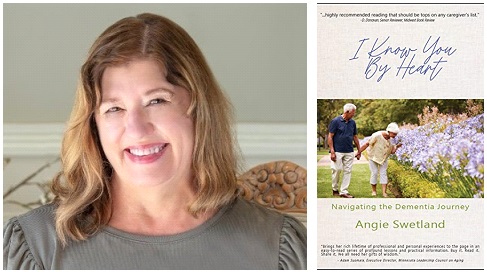 In the United States today, over 5.8 million Americans are living with Alzheimer's Disease, or related dementia. Each individual has a story; their caregivers and families do too.
Guest Angela (Angie) Swetland
joins Linda today to discuss a challenging, but very real life-phase for many families. COVID took an especially hard toll on our elders and their families, including mine (Linda's). Here's to welcome return to touch, hugs, and face to face meetings.
There is so much rich information shared in this episode, and please share with friends or family who might benefit. Learn about heightening remaining strengths, often vocational, that are not lost and give purpose to the person with dementia. Examples: give an architect his own tools to draw again, pair the former math teacher with mentoring high schoolers; re-introduce art or music opportunities; whatever piques that spark.
"Spirit sparks" are real and knowing the 5 R's is extremely valuable to the caregiver. Caregivers are a blessing, and also need respite, understanding, and support. Ambiguous loss is clear as the things ebbing away; be kind to yourself. Mitigate catastrophic reactions, respond to feelings, and reassure both parties; people matter so much. Families: you are not alone, and Angie suggests resources and support.
For more information about Angie and her work at www.DementiaHeart.com. Her short, compassionate, accessible, and practical book may be found where books are sold and here: http://bit.ly/WHR-IKnowYouByHeart.
Click here to download the show https://bit.ly/WHR-TheSlowRoad, or click below to listen live. Also, on Spotify, iTunes, Google Play, Stitcher, and other outlets. Air date 07Feb2022.